3.1 Types of speed
Appropriate speed: adapting your speed to traffic conditions, visibility, the road, the condition of the vehicle and the driver (this would be like the perfect speed).
Inappropriate speed: not adapting your speed to the circumstances. This is very risky.
Excessive speed: exceeding the speed limits of the road.
Speed limit: the maximum speed allowed on the road.
Reduced speed: low speed due to dangerous conditions.
Minimum speed: the minimum speed allowed on the road.
Abnormally reduced speed: traveling below the minimum speed. It is prohibited if there is no reason. You must travel in the right lane or shoulder. (Breakdown, traffic jam, heavy fog on the road, etc.)
Design speed: the maximum safe speed that can be maintained over a section of road in favourable conditions.
3.2 Effects of high speed
Reduces the visual field (tunnel vision)
Increases aggressiveness and fatigue
Difficult to control the vehicle
Decreases your ability to anticipate and react
3.3 Speed should be reduced in:
Places where there are children, elderly, blind people or animals nearby
Unregulated pedestrian crossing
Areas where you do not have right of way, such as intersections, level crossings and roundabouts
Bad weather conditions, slippery pavement or when there is possibility of glare
In areas of low visibility or narrow spaces
When approaching a stopped bus
3.4 Hazards of exceeding speed:
50km/h on urban roads because:
The road is shared by other drivers and pedestrians with the same rights
Being hit by a car at more than 50km/h is fatal in 50% of cases
Being hit by a car at more than 80km/h is fatal in almost 100% of cases
90-100km/h on conventional roads because:
You may be faced with cars in from of you when overtaking
Animals, pedestrians or other vehicles may appear suddenly by the side of the road
120km/h on motorways or dual carriageways because:
In an accident, the chance of survival of the occupants of the vehicle is lower
It is more difficult to control any type of manoeuvre or unexpected situation
3.5 Speed chart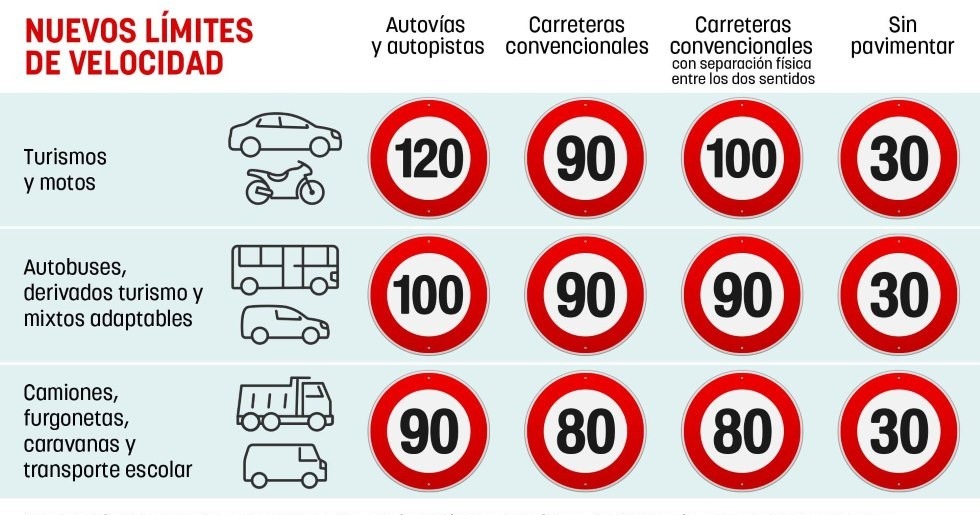 Differences between conventional highways with 100 km/h and 90km/h speed limit:
| | |
| --- | --- |
| 100km/h speed limit (+20km/h to overtake) | 90km/h speed limit (+20km/h to overtake) |
| If the conventional highway has a separation between the two directions of traffic, cars, motorcycles and motorhome with M.M.A less than 3,500 Kg, can ride at 100 km/h. | The rest of the roads away from built-up areas in general ( New regulation from 29/01/2019) |
Cars and motorcycles may only exceed the general speed limit by 20km/h to overtake on conventional roads and roads for automobiles if the vehicle to be overtaken is not already travelling at the general speed limit for the road.
3.6 Other speeds:
Maximum speed is reduced by 10km/h for: School transport on intercity roads (only) and the transport of dangerous goods on urban roads and inter-urban routes.
Motorways and dual carriageways in built-up areas (cross roads): 80km/h
Tricycles and quadricycles: 70km/h
2- and 3-wheeled mopeds and light quadricycles: 45km/h
If a 2-wheel vehicle is towing a trailer, maximum speed is reduced by 10%.
Vehicles carrying dangerous goods, maximum speed is 40km/h.
Special vehicles (tractors):
Maximum speed of 40km/h
If it is pulling a trailer and/or is a tiller and/or has no brake lights, the maximum speed is 25km/h