Carriageway (UK)/Roadway (USA): All cars and special vehicles over 3500kg will drive on a carriageway/roadway.
Hard Shoulder: The following are required to use the hard shoulder:
Special vehicles 3500kg or less
2-wheeled and 3-wheeled mopeds and light quadricycles
Cycles
Pedestrians and animals
Vehicles for people with reduced mobility
Those driving in an emergency, disrupting circulation, up to 3500kg
Note: Two cyclists side by side may travel on either the shoulder or the roadway, except on motorways, where they are not permitted to travel at all.
Parts of the road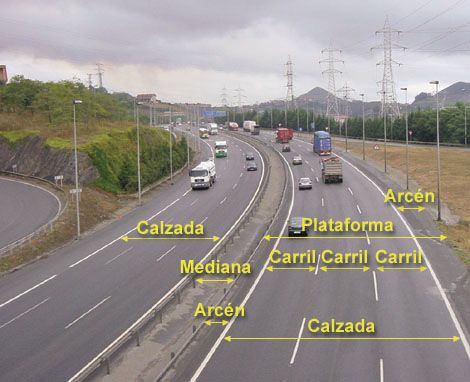 Standards of conduct, prohibitions:
Throwing objects on the road
Driving with unapproved tinted glass
Using the phone without hands-free
Wearing headphones while driving
Using DVD, internet or monitors except the GPS system
Driving with noise levels above those permitted
Releasing more exhaust through the exhaust pipe (UK) / tail pipe (USA) than allowed
Driving without an exhaust silencer(UK) / muffler(USA)
When refuelling: stop the engine, disconnect the electrical systems and switch off mobile phones
Vehicle traffic
Interurban roads: Located outside built-up areas, drive in the right lane as a general rule.

3-lane two-way interurban road: Travel is in the right lane, to overtake and change directions to the left, the centre lane may be used.
3-lane one-way interurban road: Travel is on the right and you can use the other lanes when needed, except for vehicles with trailers longer than 7m and trucks over 3500kg, which may not use the lane farthest to the left.

Urban roads: Located in a built-up-areas (including cross-town roads), travel is in the lane that best suits the destination.
Motorway (autopista)
Dual Carriageway (autovía)

No hitchhiking
Mopeds, pedestrians, animals, and cyclists may not enter
In case of emergency, use the next exit

No hitchhiking
Mopeds, pedestrians and animals may not enter
Cyclists may enter if over age 14
In case of emergency, use the next exit
Special lanes:
| | | | |
| --- | --- | --- | --- |
| RAS | | | |
| Obligations | Reversible | Additional | Opposite-Direction |
| Headlights day and night | YES | YES | YES |
| Speed between 60-80 km/h | NO | YES | YES |
| All cars may enter except cars with trailers. ALL may enter because of construction | NO | NO | YES |
The initials of each special lane form the word RAO. The first obligation is lighting, the second is speed, and the third is access restriction.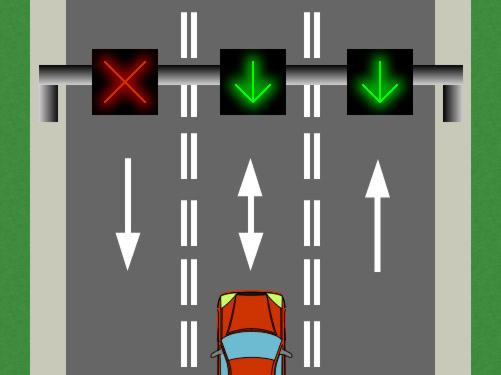 Reversible: Usually located in a built-up area, they are marked by lane traffic lights and double dashed road markings.
---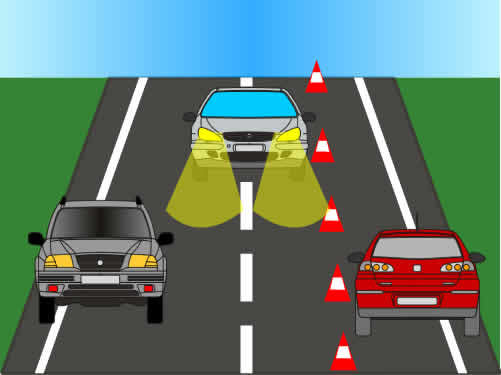 Additional: This lane can be used by all vehicles except those required to travel on the hard shoulder. The speed and lighting rules apply to all vehicles travelling on the carriageway/roadway.
---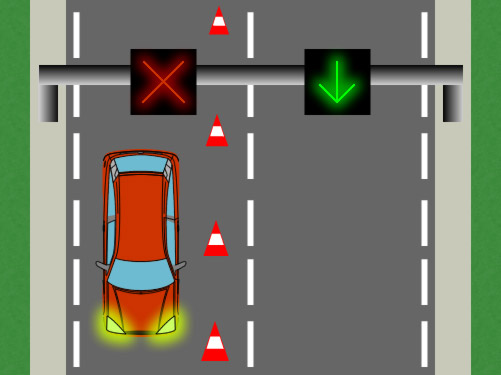 Opposite direction: This lane does not allow: overtaking, moving to the side or crossing the imaginary line formed by cones
---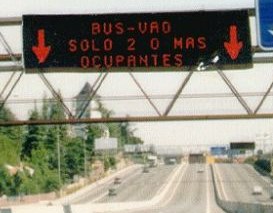 VAO Lane: High occupancy vehicle lane:
Can be used by:

Cars, adaptable mixed vehicles, and motorcycles up to 3500kg and carrying the number of occupants indicated by the signage
Priority emergency service vehicles
Vehicles for people with reduced mobility

They cannot be used by:

Lorries/Trucks or vehicles with trailers
---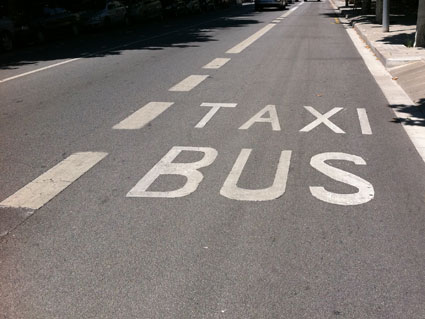 Bus lane: Used exclusively for public transport vehicles. If taxis are also indicated, they may also use the lane.
---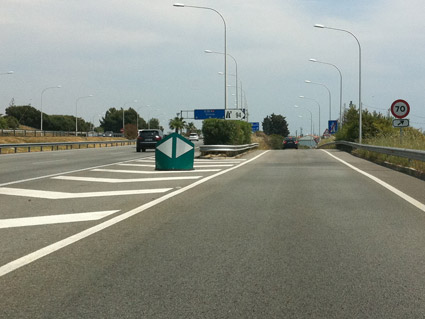 Deceleration lane: For exiting a high-speed road. Drivers should access this lane as soon as possible.
---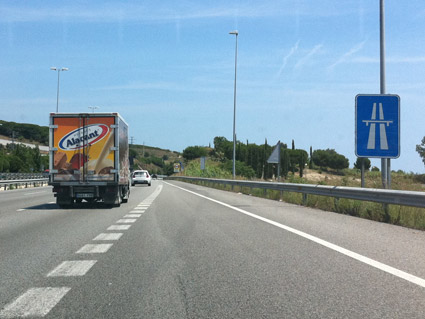 Acceleration lane: For entering a high-speed road. Drivers must give way, even stopping if necessary.